May 23rd, 2012
---
02:26 pm - My website was off line for several days
Between May 18 and May 22, no one could access my website or send me an email, as MacHighway, my host server had moved my site to their new c-panel and there were problems. Thankfully they have been solved.
Everyone can now see my work at "JoyGibat.com".

February 5th, 2012
---
10:53 pm
Have been working on commission for Prosperity Feathers, 40 have been picked up, am finishing another 50 that will go to Australia with a Rotary group from Oklahoma.
Not certain if I will continue with LiveJournal or not. Do seem to get much from being a member.
Current Mood:
apathetic

February 19th, 2011
---
11:29 am
A 2011 calendar from the Norman Arts Council arrived this morning, featuring my copper roses for the month of February.
I remember submitting some images but it was a long time ago, and as I never heard anything more, I assumed that the project was scraped.
If I had known I might have bought some.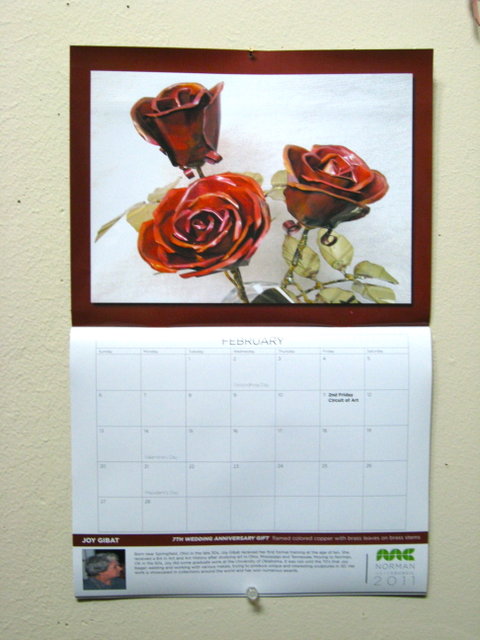 Current Location:
Norman, OK
Current Mood:
amused

January 23rd, 2011
---
07:45 pm - Valentine Copper Heart
Special! A Copper Heart will be included with the Copper Rose that arrives in a White Gift Box with Turquoise tissue paper.

Great Valentine Gift. !

A romantic way to say " I love you ".
A Copper Rose with three Brass Leaves arrives with a white box, ready for giving.
A Free Copper Heart is included with this Scented Copper Rose.
I will add 2 names and date on the Copper Heart.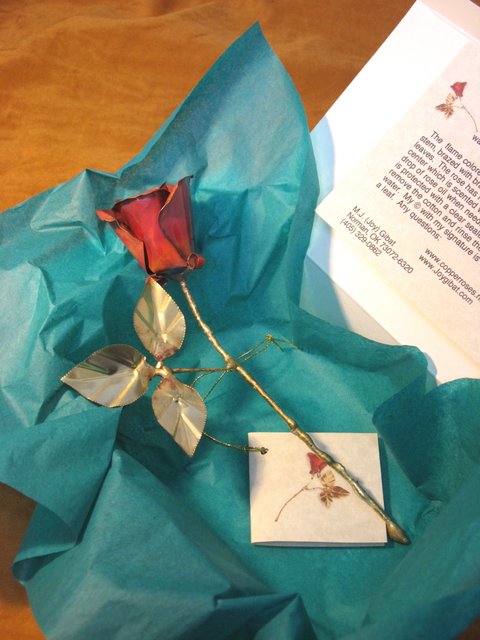 To order visit my website:

http://www.joygibat.com/

Offer of Copper Heart good until Feb. 14, 2011.

January 13th, 2011
---
05:19 pm - Need 4 more,
This is on my Facebook page but why not here at LJ.
Pay it Forward 2011: I will send something handmade to the first 5 people who leave a comment.
They must in turn post this and send something they made to the first 5 people who comment on their status.
The rules are that it must be handmade by you and it must be sent to your 5 people sometime in 2011.
The something can be baked, knitted, collage, sewn, painted, whittled, etc.
I will probably do some things with metal and welding.
Please send me your name and address as a private message.

January 9th, 2011
---
07:31 pm - Hate and anger cause so much grief.
I have signed a number of petitions thru the internet.
Some people are certain that it does nothing, a waste of time.
I agree it is better to sign a paper petition, or send a letter thru the US mail but I am not certain that using the internet is fruitless.
I think after this attack in Arizona that people need to voice some kind objection to public and private persons promoting hate and violence.
I feel a lot of anger about the shootings in Arizona, but violence is not the answer.
Think we must find other ways to cope.
I discovered years ago that this action helps me defuse anger.
I call it "Roar like a Lion"
Sit, stand, whatever, Stick out your tongue with your mouth open, flex your hands like claws, open eyes wide, and Roar!
Repeat, until anger is gone, or in retreat.
Very satisfying when you do it with a friend but will work when done alone.
Thus, to those who have much anger and hatred, I will join you with a Roar, but not in even wishing harm to those who anger you.
Current Mood:
worried

December 19th, 2010
---
06:37 pm - Schrodinger's Cat
Found this on FaceBook, I can only say that it was at:
http://www.facebook.com/PhysicistTv?ref=mf
have always been intrigued by the concept, and think this sign depicts it.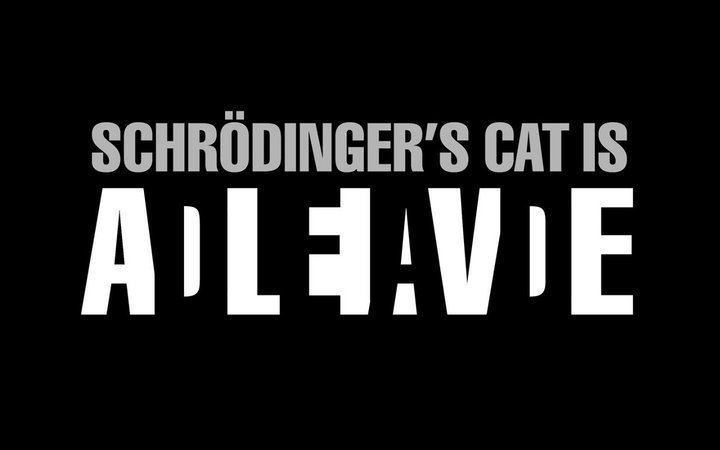 Current Mood:
contemplative

October 24th, 2010
---
03:34 pm - Warning!
WARNING for ARTISTS/CRAFT PEOPLE, who are selling on the internet.
A scammer has been playing games with some at ArtByUs.
I think he will be blocked soon and try other sites.
So be careful if someone tries to buy work from you,
uses "sandJ0hn95" or
addresses you as "seller",
does not give his name,
also ask for "final price"
replies as if he didn't read your email.
ask same things over and over.
The email appears as if the writer is barely literate.

BEWARE

For me he was just a waste of time.
Current Location: Norman, OK

October 17th, 2010
---
02:57 pm - A Great Day!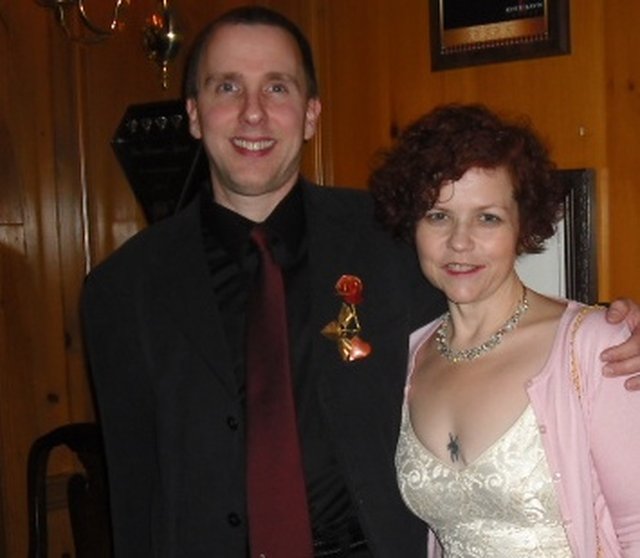 On their First Wedding Anniversary

A lovely lady just sent me this photo, last night she gave her husband, T, a Copper Rose, which he has put in his pocket while the maitre d' took their picture.
It was their 1st Anniversary, and she wore the same outfit that she wore for their wedding.
The dress is extra special, as her neighbor gave it to her.

I am very grateful to the above lady, she had first emailed me from my website and the link didn't work. Then she sent me a note thru her own email provider and I got that. But she mentioned that she had trouble sending the first email. I got checking and discovered that none of the links on my site worked. I had been wondering why I hadn't any orders. Anyway, after 3 day & nights I finally got them to working. (I had bought a new iMac, some of the software wasn't compatible.)


Also, this morning, I received a phone call from a very kind lady in Pennsylvania, who had purchased an earring and pin set of mine at a garage sale. She call me to ask what metal was used, and get an idea when they were made.
She was very happy to have located me, my card was still with the original box.
They were an abstract heart made with nickel silver and turquoise beads. I must have made them in the 90's.
Anyway I told her that I had a website at Joygibat.com
Putting some form of business card with one's work is always a good Idea!
Am looking thru some photos to see if I have any of those earrings and pins. If I find any will post them here.
If that lady reads this, would she email me her address, I would like to send her a Thank You card, as she has "Made My Day".
Current Location: Norman, OK
Current Mood:
happy

October 11th, 2010
---
10:56 pm - The Post Office and Asian Food
The Post Office and Asian Food

I love the Post Office and use their online site a lot.This morning it would not accept an address at 525, so as there was something wrong I double checked and found my error, there should be a 7 in front of the 5. Fixed that and printed the mailing label.
I have been printing the labels for over a year, usually the letter carrier picks up the package at my mail box.
It has really been a big help but no service as Columbus Day so off I went to OK City airport office that is open 24/7.
It is also an excuse to stop at an Asian market as I love all the exotic vegetables, spices and food.

With the fresh veggies there were things that were called Red Tuna and Green Tuna, I picked one up and took it to the lady who was putting out more veggies. She whips out this huge sharp knife, peals it and indicates that I am to try it raw. I do, strange flavor a bit sweet, she points to the Green ones and says "sweeter" so I have bought two of the green ones. Goggled tuna and discovered that they are:
: any of various flat-jointed prickly pears (genus Opuntia) : one (O.tuna)
of tropical America 2 : the edible fruit of a tuna
www.merriam-webster.com
So I have also learned something new, "these tuna are not fishy" but have a sweet and unique flavor.
They also have a lot of small hard black seeds that I don't think will easily digest.
The market also carries many different types of rice. I bought some Brown Jasmine Rice. They also had Black Sweet Rice that I like to use for sushi.
The weather is sunny without the heat of summer.
All in all, a wonderful day.
Hope all have a great week.
Current Location: Norman, OK